After months of little or no story, a spokesperson for Joseph Mascolo (Massimo Marone) has confirmed that the actor has decided not to renew his contract with The Bold and the Beautiful.
"Joe has not been happy with the direction of his character and the lack of story [for Massimo]," a setside source tells Soap Central.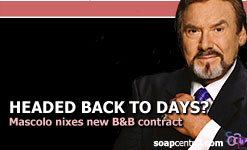 Mascolo joined the cast of The Bold and the Beautiful in August 2001 following a split with NBC's Days of our Lives. His departure from the NBC soap was dubbed "amicable," and Mascolo strongly expressed his desire that contract talks with DAYS execs had gone differently. Mascolo had played the role of Stefano DiMera for nearly 20 years.
In not renewing his contract with B&B, a source tells Soap Central that Mascolo would also be open to a return to the show if and when "good stuff" is written for his character.
Of course with Mascolo's exit comes chatter that the actor might be headed back to Days of our Lives. Last month, Days of our Lives revealed that it had hired a new head writer, multiple-Emmy winner Hogan Sheffer. With DAYS bringing back familiar faces from its past and a new spark provided by a new head writer, fans are abuzz that "The Phoenix" may once again rise in Salem.
Oh, and the fact that Stefano was killed? He's never let that stand in his way before!
A final airdate for Mascolo has not yet been announced. It is also unclear whether or not the actor will continue on a recurring basis or if his exit will be immediate.
A spokesperson for The Bold and the Beautiful did not respond to requests for a statement.