The sand will continue to pass through the hourglass for at least another season. Corday Productions, NBC and Sony Pictures Television have reached a deal resulting in the renewal of Days of our Lives, Soap Central has learned. Terms of the deal were not immediately available. The announcement comes less than a month after news that Passions had been renewed for an eighth season.
A show source tells Soap Central that DAYS executive producer Ken Corday invited the cast and crew to lunch last week to break the news that the show had been renewed. While news had been circulating for some time that the show had been picked up for at least another season, this was the first time that official word had come down from the show's top brass.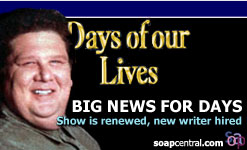 According to setside sources, DAYS' renewal was contingent upon budget cuts and the removal of head writer James E. Reilly. Reilly's contract with the network was said to have contained a ratings guarantee. With Days of our Lives' ratings often teetering near record lows of late, NBC is believed to have exercised the option to remove Reilly as head writer.
With Reilly out, NBC has tapped multiple Daytime Emmy winner, Hogan Sheffer, to take over as head writer later this year. Sheffer picked up Emmys for his work as head writer on CBS's As the World Turns in 2001, 2002, 2004 and 2005. During his tenure at As the World Turns, the show was widely praised for undergoing a renaissance, of sorts.
Sheffer, however, is not without some controversy. The plus-size writer is a favorite of the media. His wise-cracking and humor-laden stories have earned praise from the media and fans alive. However, some As the World Turns fans were critical of Sheffer for having "favorites" among the show's many characters. Those fans felt that veteran performers were often cast aside while newcomers were featured prominently on-screen. In February 2005, Sheffer took what CBS called "a 17-week sabbatical" from his head writing duties. Two months later, Sheffer was relieved of his duties amid reports that he and ATWT executive producer Christopher Goutman had gotten into a verbal altercation. A show spokesperson declined to comment on the rumors.
Beth Millstein will act as interim head writer until Sheffer takes over the reins. After that time, Millstein will remain on the show's writing team.
A Days of our Lives spokesperson had no comment on DAYS' renewal, saying that an announcement would be made at a later date by NBC. As for the head writer shakeup, the spokesperson tells Soap Central that "Hogan will be starting in August."

RELATED STORYNBC renews Passions for an 8th season