What is your take on B&B's newest Marone-tied character?

It's great. I look forward to exploring more about the Marone family.
35%
It's way too soon to tell how this storyline will play out on the show.
21%
I have no interest in the Marone clan and wish B&B would reconsider this.
17%
I am not realy moved one way or another about the new character,
16%
I'd like B&B to explore the Marones, but this plot idea doesn't thrill me.
10%
Other
2%
Poll Posted: August 7, 2006
Last year
,
Ben Hogestyn
made a bold decision last year to tackle the role of a gay teen on ABC's
General Hospital
. Now the actor has made a Bold move: he has inked a contract to appear on CBS's The Bold and the Beautiful.
Since September 2005 Hogestyn has portrayed Lucas Jones on General Hospital. Though Hogestyn's character was often part of a front burner story, the actor was never on contract with the ABC soap. Because of his recurring status, Hogestyn was under no obligation to remain with General Hospital and was free to pursue other opportunities.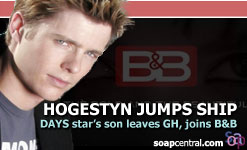 On The Bold and the Beautiful, Hogestyn will portray the role of Harry Jackson, the son of a man that died on one of Marone Industries' tankers.
In addition to his work on General Hospital, Hogestyn has made several guest appearance on primetime series including, "American Dreams" and "The Division." Hogestyn is the real-life stepson of Days of our Lives star Drake Hogestyn (John Black).
The younger Hogestyn began taping scenes for The Bold and the Beautiful on August 4th. He will first air on-screen on August 28th.
"We thank Ben Hogestyn for a job well done during his time at General Hospital and we wish him the best in all of his future endeavors," a spokesperson for General Hospital told Soap Central. " As for the character of Lucas, we will recast the role at a later date as storyline dictates."