Though practically a newcomer to The Bold and the Beautiful, Ben Hogestyn (Harry Jackson) finds himself on the chopping block. The actor, who joined the show just three months ago, has been dropped to recurring status.
Hogestyn, the son of Days of our Lives star Drake Hogestyn (John Black) made news in August when he jumped ship from ABC's General Hospital amid a high-profile coming out story. ABC denied that it was shying away from a gay teen storyline and Hogestyn, who was not a contract player, opted to take on the newly-created B&B role.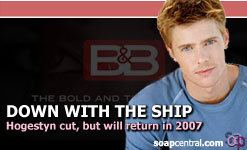 Hogestyn is not the only B&B newcomer to find his celebrated addition to the cast cut short. Mario Lopez (Christian Ramirez) joined the B&B cast with much fanfare in March, but after the actor's debut he was let go from his contract four months later. Another former General Hospital star, Antonio SabŠto Jr. (Dante Damiano), joined The Bold and the Beautiful in June 2005, but due to a lack of story the actor exited the show on November 20th.
There is good news for fans of Hogestyn: executive producer/head writer Bradley Bell asserts that Hogestyn's downgrade to recurring status is only a temporary situation. Due to B&B's half-hour format, there is not enough time to tell story that involves all of the show's characters.
Expect Hogestyn to return to B&B full-time in the spring as the show gears up for its teen storylines.