According to a statement from her official fan club, actress Hunter Tylo (Taylor Hayes Forrester) will be leaving The Bold and the Beautiful.
"Hunter taped her last episode for The Bold and The Beautiful, Tuesday, October 9, 2001 ending months of speculation about her status with the show," said an official statement from the fan club. "Negotiations have failed to produce a contract agreeable to both Hunter and B&B."
The main sticking point, according to Tylo's web site, was money.
"Hunter asked for the continuation of her contract at her current rate, with normal cost of living increases to be realized over the course of the three-year contract," said a statement on the web site. "Despite the increases in viewership, increase in market share, and Hunter's eleven year history with the production, the B&B office stated it could not afford to continue her contract at its current rate. The B&B office offered Hunter a contract for less money, working the same schedule, with small increments built in. At the end of this new three-year contract, Hunter would be working the same schedule, making less money than she is now."
A B&B spokesperson declined to comment on the statement.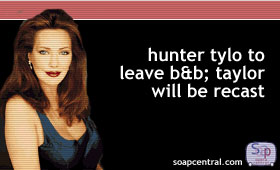 Tylo, one of most recognized daytime figures, has been featured in People Magazine's "Most Beautiful People" edition in 1993 and again in 1998. TV Guide has also featured her as one of the sexiest women in daytime. However, Tylo is much more than a pretty face.
Prior to joining The Bold and the Beautiful in 1990, Tylo already had compiled an impressive portfolio of daytime appearances. She appeared as Marino Toscano on Days Of Our Lives from 1989 to 1990. Before that, she was All My Children's Robin McCall from 1985 to 1987.
In addition to her work on television, Tylo is quite active in raising funds for a variety of charities. One of those charities, Hunter's Chosen Child, assists women who have been discriminated against because they are or were pregnant. The charity was founded with money awarded to Tylo after a much-publicized legal battle with Aaron Spelling.
Though it may be difficult for B&B fans to picture anyone other than Tylo in the role of Taylor, they're going to have to start doing just that. According to Tylo's fan club, show executives have already decided to recast the role.
Tylo's final on-air appearance is scheduled for later this month.