Rick Hearst (ex-Matt Clark, The Young and the Restless; ex Alan-Michael Spaulding, Guiding Light) has joined the cast of The Bold and the Beautiful.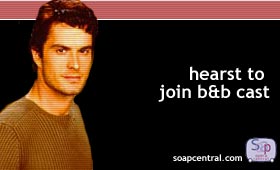 Hearst joined the cast of The Young and the Restless in October 2000. He made an exit from the show in May 2001 when his character was killed -- but Hearst returned in ghostly form in July. His final on-air appearance came in November.
Prior to his stint on Y&R, Hearst had a six-year run on Guiding Light as Alan-Michael Spaulding. Hearst left the show in 1996.
Despite -- or perhaps because of -- his role as Y&R's resident bad guy, Hearst picked up a handful of nominations in the Y&R edition of this year's Soap Central Dankies awards.
According to a source at B&B, Hearst will play Whipple "Whip" Jones III, a character that will be involved in Deacon and Brooke's storyline.
Hearst's first airdate is February 13th.