Brian Gaskill (Rafe Kovich, Port Charles) has been signed to a contract by CBS's The Bold and the Beautiful. Gaskill will appear as Oscar -- "Scar" for short -- a new member of the Marone family. According to a show spokesperson, Gaskill's character will be "rough-around-the-edges" and have ties to the Las Vegas gambling scene. Insiders tell Soap Central that Oscar will be a love interest for Bridget Forrester.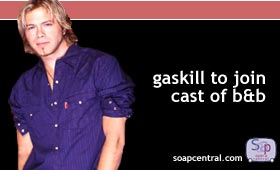 "With Brian Gaskill joining the show, the Marone family is now complete," said B&B's executive producer and head writer Bradley Bell. "Brian has a natural ability that I've admired for years. I am so pleased to have him aboard."
Gaskill becomes the second Port Charles star to be signed to a contract by another soap. Michael Easton (Caleb Morley, Port Charles) was signed to a contract role on ABC's One Life to Live.
Earlier this year, ABC Daytime President Brian Frons announced that financial considerations forced the network to cancel Port Charles. The show was already on hiatus and will air its final episode on October 3rd.
ABC's All My Children has expressed interest in having Gaskill return to the show to reprise the role of Bobby Warner. Gaskill appeared on AMC from 1995 to 1997. On B&B, Gaskill will be reunited with his former AMC castmate, Sydney Penny (Samantha Kelly).
Gaskill will first air on The Bold and the Beautiful on September 11th. He will continue to air simultaneously on Port Charles; it is considered rare for an actor to appear on two shows - especially on rival networks - at the same time.