Kimberlin Brown (Sheila Carter) is returning to The Bold and the Beautiful - and she's bringing along some company in the form of veteran daytime star Robin Mattson (ex-Janet Green, All My Children; ex-Heather Webber, General Hospital).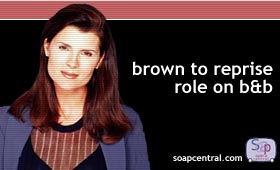 Brown originated the role of Sheila on B&B sister soap The Young and the Restless in 1990. In 1992, Brown and her character switched over to The Bold and the Beautiful and remained there until 1998. Brown's most recent stint on B&B started off as one of the best-kept secrets in recent daytime television history. In May 2002, Brown returned to B&B -- and it surprised just about everyone, including the media. Brown had been kept in a secret location at the B&B studio and even some of her castmates didn't know she was going to be appearing on the show. Brown exited B&B in October 2002 when her character was sent to jail for shooting Brooke and killing Taylor.
So how will the former nurse end up on the show's canvas again? Execs at B&B are keeping tight lips regarding the Brown's return as well as the addition of Mattson to the cast.
One scenario favored among Internet posters is that Sheila might have had a baby. Sheila and Massimo Marone had a sexual encounter shortly before Sheila was carted off to prison - and a resulting baby would have been born in May 2003. Mattson, known for playing several characters with questionable sanity, will portray one of Sheila's cohorts, named Sugar. Despite rumors in 2001 that she'd be returning to General Hospital, Mattson hasn't been seen on daytime television since her exit from All My Children in May 2000. Mattson's run on B&B is expected to last only a short time.
Both Brown and Mattson will appear in late September.