Former primetime soap star Lorenzo Lamas will join the cast of CBS's The Bold and the Beautiful in February.
Lamas will appear on B&B in the contract role of Hector Ramirez, a Los Angeles firefighter. Ramirez will also turn out to be the father of newly-hired Forrester intern Caitlin Ross.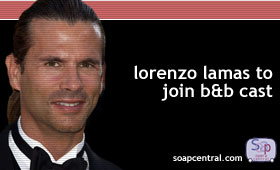 Lamas, who enjoyed a nine-year run on Falcon Crest, has never before appeared on daytime television despite having an extensive acting portfolio. Lamas made his acting debut in 1969, landing the uncredited role of a Native American in 1969 film 100 Guns. His first credited role came nine years later when he played Tom Chisum in the motion picture Grease. Despite his success in motion pictures, Lamas will probably always be remembered for playing Lance Cumson on Falcon Crest. Last season Lamas appeared on the ABC reality series Are You Hot?
Some fans are already critical of B&B's hiring of Lamas, saying that the hiring appears to be little more than a publicity stunt to increase ratings. Similar cries echoed in 2002 when CBS's Guiding Light hired former Dynasty star Joan Collins to tackle the role of Alexandra Spaulding. Collins' addition to the cast failed to register even a small blip on the ratings and Collins exited Guiding Light less than three months after her debut.
The addition of the character of Hector Ramirez also signals a return by The Bold and the Beautiful to incorporating Latino characters into its storylines. In May 2001, B&B began simulcasting each episode in Spanish in an attempt to court Spanish speaking viewers. Several Latino characters were also folded into the mix, but within a year none of those characters were still a part of the show's canvas.
Lamas begins taping on January 26 and will make his on-air debut on The Bold and the Beautiful on February 18.