Call her a rolling stone: Adrienne Frantz (Amber Moore) has confirmed to Soap Central that she will be exiting her Emmy-winning role on The Bold and the Beautiful later this year. Frantz allowed her contract with the show to expire and -- in spite of intense lobbying by show execs -- opted not to re-sign with the show.
"I'm leaving for a while," Frantz told Soap Central along the Red Carpet at this year's Daytime Emmys. "They wanted me to stay right now, but I need time to go out and do my own thing."
What is your reaction to Adrienne Frantz's announcement that she will be exiting B&B?

I'm upset. I'm really going to miss Adrienne's Amber.
44%
This is great. I was never really a fan of Amber.
23%
Giving Amber a rest will be good for B&B in the long run.
19%
I'll miss Amber. I think B&B should recast the role.
8%
Honestly, I expect Frantz to head to another show.
3%
I have no opinion on her exit at this time.
2%
Other
0%
Poll Posted: May 22nd, 2005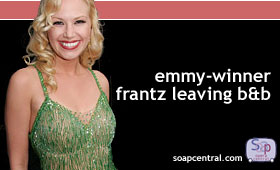 And what exactly is Frantz's thing?
"I'm going to record and finish my album," Frantz beams. "It's rock music. I'm gonna be a little rocker!"
While Frantz expresses a desire to return to The Bold and the Beautiful set in the future, she's not saying exactly how long she plays to be away from The Bold and the Beautiful. According to Frantz, she may be gone for "three months... maybe six months."
"I've been on the show for so many years as a lead actress," Frantz continues. "At some point, I think everybody needs a break. I can come back fresh and happy, and they can write some incredible storyline for me to sink my teeth into when I come back. "
Frantz joined the cast of The Bold and the Beautiful in July 1997. During her time with the show, she has earned three Daytime Emmy nominations in the Outstanding Younger Actress category - and scored victory in 2001. She is expected to make her B&B exit by the end of June.