Emmy-nominated actor William deVry is returning to daytime television - but not to ABC's All My Children where he menaced nearly all of the residents of Pine Valley. This time around deVry will have a decidedly less wicked role on CBS's The Bold and the Beautiful.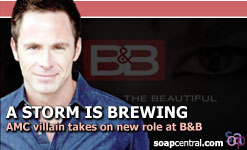 In a message posted on his official web site, the actor's fan club confirms a report made last week by Soap Central that deVry had been hired to play Stephen "Storm" Logan, Jr. on The Bold and the Beautiful.
It has been about three years since Storm last was seen on The Bold and the Beautiful. Ethan Wayne is the last actor to have played Storm, appearing as a contract player in 1987 and 1988 and then making guest appearances in 2000, 2001 and 2003. Brian Patrick Clarke also appeared in the role from 1990 to 1991.
This will be deVry's third role on daytime television. In addition to his upcoming work on B&B, deVry also enjoyed a nine-month run on All My Children in 2003 as Michael Cambias. He also made appearances as a "ghost" in 2004 and 2006. His work on AMC earned him an Outstanding Supporting Actor Daytime Emmy nomination.
With a starting date of September 19, deVry has already started taping scenes for The Bold and the Beautiful. While a first airdate has not yet been announced, it is expected that deVry will first air sometime in mid-to-late October. A setside source also hints to Soap Central that deVry will only be sticking around for about a month -- but of course that could change.
A CBS spokesperson did not return requests for comment.