Two-time Emmy winner Heather Tom has returned to daytime television. The actress, perhaps best known as Victoria Newman on CBS's The Young and the Restless, has signed on to appear on Y&R's sister soap, The Bold and the Beautiful.
Though an official statement has yet to be issued, Soap Central has learned that Tom has been cast as Katie Logan, Brooke and Donna's younger sister. It's been three years since Katie was last spotted on B&B. Back in 2004 Katie was then played by actress Nancy Sloan.
This will mark the third daytime role for Tom. The actress enjoyed a 12-year run on CBS's top-rated soap, The Young and the Restless as Victoria Newman. During her tenure with Y&R, Tom earned eight consecutive Daytime Emmy nominations in the Outstanding Younger Actress category. In 1993 and 1999, Tom took home the Emmy in that category.
In November 2003, Tom exited The Young and the Restless, citing "creative differences" as her reason for bolting. It wasn't the first time that the actress exited the show. She had previously taken a six-month break from Y&R in 1997. One month later, Tom jumped ship to ABC's One Life to Live and assumed the role of Kelly Cramer. Tom expressed excitement over having a chance to relocate to New York and experience life in The Big Apple. Though her stay with One Life to Live lasted just four years, Tom added another two Emmy nominations to her impressive tally. This time around, the actress earned her nods in the Outstanding Supporting Actress field.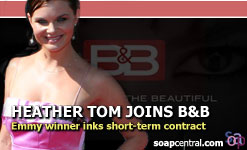 Upon leaving One Life to Live in December 2006, Tom expressed a desire to return to Los Angeles, where she had spent her Y&R years and seek out new opportunities. Tom did land a recurring role on the short-lived FOX primetime series, The Wedding Bells.
Meanwhile, daytime vet Amelia Heinle took over the role of Y&R's Victoria in March 2005. Despite rumors last year that Tom would return to Y&R, the show issued a statement indicating that they were pleased with Heinle's work as Victoria and denied rumors that Tom had been asked to return to the show.
Tom has already started work at The Bold and the Beautiful; she reported for work on July 18. Her stay is expected to be short-term -- insiders say she inked a six-month contract. However, as soap fans know anything is possible.
A first airdate for Tom has not yet been announced.