What is your reaction to the news that Heather Tom will leave OLTL?

I'm relieved. I really didn't like Tom's portrayal of Kelly.
32%
I'm stunned. I can't believe that ABC let such a talent walk away.
30%
As a Y&R fan, I'm selfishly hoping that she will return to her CBS roots.
16%
I'm mad. I'm a huge Tom fan and think her talent was wasted by OLTL.
11%
I don't have an opinion one way or the other about Tom's departure.
6%
I'm not a fan of Kelly, so I would have rather Kelly stay out of Llanview.
2%
Other
1%
This is a publicity stunt. Heather Tom is not leaving OLTL.
1%
Poll Posted: August 27, 2006
As reported last night by Soap Central, Emmy winning actress
Heather Tom
(
Kelly Cramer
) will be exiting One Life to Live later this year. The stunning news comes just days after Tom's co-star
Dan Gauthier
(
Kevin Buchanan
) was told that he would be getting an early release from his contract.
"It is with great regret that I have decided to leave the cast of OLTL," Tom said in a statement. "The time has come for me to return to Los Angeles and pursue other creative avenues. I have loved my time in New York City, and I have been so lucky to have known and worked with some of the best people in daytime. The love and support from everyone on the set of One Life and from all my fans has meant more to me than anyone can imagine."
Another One Life to Live Emmy winner, Hillary B. Smith (Nora Hanen), has expressed her concern over the two actors' departures.
"I am saddened by the news of [the departures of] Dan Gauthier and Heather Tom," Smith said. "Kevin is a Buchanan and a Lord and Kelly is a Buchanan and a Kramer. They are both exceptional actors and wonderful people."
Smith is no stranger to contract woes herself. Just last year the actress almost saw her character killed off, but she and the network eventually came to terms so that Smith could remain on-screen for at least another year.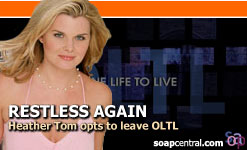 Tom's addition to the One Life to Live cast in 2003 was seen as a huge coup for the ABC soap. The two-time Daytime Emmy winner had been a member of the top-rated CBS soap The Young and the Restless for twelve years. Tom's decision to walkaway from Y&R was based on the money value of the contract CBS had presented to her. In a time of ever-shrinking budgets, it is entirely possible that Tom was again displeased with the network's -- this time ABC -- contract offer.
As the news broke of the casting coup, Tom was given the red carpet treatment by ABC; she was given a chance to co-host the ABC talk show, The View, while it sought out a permanent host.
Unlike Gauthier, who was essentially fired from the show, Tom decided her own fate. The actress decided not to renew her contract.
With Gauthier also leaving, it is unlikely that One Life to Live will recast the role of Kelly. Insiders hint that Kevin will actually be the father of Kelly's baby and the two will leave Llanview to try to get their relationship back on solid ground.
A spokesperson for One Life to Live was unavailable for comment. However, as the network has a policy of not commenting on contracts, it is unlikely that any comment will be forthcoming at this time.
Understandably, some fans are already speculating that the actress might be headed back to her old Genoa City stomping grounds. Actress Amelia Heinle was cast as Y&R's Victoria in February 2005. At the time, about one-fifth of those responding to a Soap Central poll said that they didn't want the role recast, but more than half felt that Victoria was too central of a character to simply vanish from the canvas.
Tom will last air on One Life to Live on December 14th.