Smith, OLTL Come to New Terms on New Contract
by
Dan J Kroll

Posted Saturday, December 24, 2005 5:15:37 PM
Updated Monday, January 16, 2006 11:28:06 AM

After a lengthy period of negotiation, Emmy winner Hillary B. Smith (Nora Hanen) has inked a new contract that will keep her on One Life to Live. The news will come as a huge relief to fans who watched nervously as talks between Smith and ABC had been tenuous, at best, for many weeks.

"Our beautiful Hillary will be sticking around as Nora for at least another year," a statement said on the actress' official web site.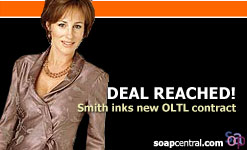 As Soap Central readers will by now know, it looked for a period of time that Smith and ABC might not be able to come to terms on a new contract. While it was widely reported that ABC had "low-balled" Smith with an initial contract offer, Smith's rep issued a statement saying that the actress and the network had not even been involved in contract talks.

Things hit critical mass as the days in Smith's existing contract - which would have expired at the end of December - slowly wound down. Reports that Smith was shopping herself to the rival soaps, particularly CBS's As the World Turns and The Bold and the Beautiful, and talk that One Life to Live might script Nora's coma into a Terry Schiavo-like storyline made fans increasingly nervous that Smith's days with the show might be coming to an end.

Some fans, however, remain concerned that despite Smith's new contract, the fate of her on-screen persona might not change any time soon. One Life to Live's head writer, Dena Higley, has said in interviews that Nora will remain in a coma through February Sweeps - but will regain consciousness sometime in late-March or early-April.

Smith earned an Outstanding Lead Actress Daytime Emmy award in 1994. She received an additional nomination in the category in 2000.
---