The 19-year-old son of soap actors Hunter Tylo (Taylor Forrester, The Bold and the Beautiful) and Michael Tylo (ex-Quint Chamberlain, Guiding Light) has died at the Tylo family home in Nevada.
Michael Tylo, Jr. drowned and was pronounced dead at 11:55pm on Thursday, according to the Clark County Coroner, Michael Murphy. The death, which was first reported by celebrity gossip site TMZ.com, has been ruled an accident; Tylo apparently fell into the pool following some sort of medical event. A family spokesperson states that the young man was at the Las Vegas-area house with his older step-brother, Christopher, and was believed to have suffered a seizure and fallen into the pool after stepping outside the home to use his cell phone.
Though Tylo had no known history of substance abuse, toxicology tests are bring run. The coroner's office states that this is standard procedure in this type of situation. Results of the tests will not be available for several weeks.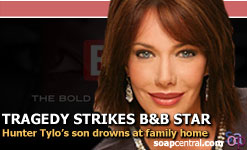 This is not the first time that the Tylo family has been hit with difficult times. In December 1997, Tylo battled mega-producer Aaron Spelling in court after she was fired from the primetime soap Melrose Place for getting pregnant. The child, a daughter named Izabella, was 13-months old by the time the pregnancy discrimination case went to court. Tylo won nearly $5 million at the end of the six-week trial, but during the trial she revealed that she was again pregnant with a little girl that actress would later name Katya.
In 1998, Hunter and her then-husband Michael were told that their infant daughter, Katya, had a rare form of cancer called retinoblastoma in her right eye. Young Katya's eye was removed and she underwent chemotherapy. Later that year Katya also developed tumors in her other eye, but the tumors miraculously disappeared.
Michael, who was known as "Mickey," was Tylo's son with former husband Michael Tylo, Sr. The pair also has two daughter, Izabella and Katya.