A spokesperson for The Bold and the Beautiful confirms that
MacKenzie Mauzy
(
Phoebe Forrester
) has dropped to recurring the status. The change comes as the actress makes a bold move to the Great White Way.
Mauzy has joined the cast of the Broadway musical, A Tale of Two Cities. Mauzy workshopped the production in 2005, about a year before she joined the B&B cast. In the production, Mauzy will play the role of The Seamstress. She'll be joined on stage by former Passions starlet, Brandi Burkhardt, who plays the lead role of Lucie Manette.
This is not Mauzy's first stage performance. In 1998 the young actress won the Anna Wentworth Award for "Best Child Actress" for her role as Annie Warbucks in the production of "Annie" at the Showtimers Theatre in Roanoke, Virginia.
When Mauzy joined The Bold and the Beautiful in July 2006, she became the first non-twin performer to play one of the Forrester twins. Seven months earlier, twin stars Addison and Alex Hoover were dropped from the show amid reports that the writers wanted to age the characters. Mauzy is just a year older than the Hoovers.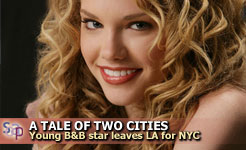 The addition of Mauzy to B&B also sent gossipmongers into a frenzy. Internet speculation declared that Steffy, Phoebe's twin sister, would be killed off. The move would have potentially alleviated the difficulty in finding twin actresses to play the two roles. While that might have been a behind-the-scenes option, the show officially ruled out killing one of the twins earlier this year when actress Jacqueline MacInnes Wood joined B&B. The show has yet to address how the once identical twins no longer look alike.
Prior to her role on The Bold and the Beautiful, Mauzy appeared on CBS's Guiding Light from 2000 to 2002.