Sarah Brown will join the cast of The Bold and the Beautiful in November, making her first on-screen appearance a day after she makes her final appearance as Claudia Zacchara on ABC's General Hospital. If the turnaround seems incredibly quick, it's because it is -- and Brown almost wasn't able to take on the B&B role.
Brown is contractually obligated to General Hospital through January 14, even though her character is being written out in a matter of weeks. In a somewhat surprising move, ABC agreed to release Brown from her contract early, thereby clearing the way for her to start working on The Bold and the Beautiful.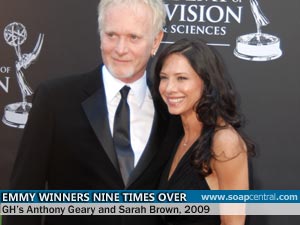 "I was stunned. It was something really very human and very big of them," B&B executive producer/head writer Bradley P. Bell told the Associated Press. "They were putting the needs of the actress, who is a mother, ahead of the network's."
For her part, Brown says she is extremely grateful to the folks at ABC who made it possible for her to work for a rival network. In return, Brown's sendoff from General Hospital will be one that's good for everyone involved -- the show, the actress, and, most importantly, the fans.
Brown has appeared for the past 20 months as Claudia Zacchara, but this wasn't the actress' first stint in the fictional Port Charles. Beginning in April 1996 and ending five years later, Brown portrayed the role of Carly Corinthos. Her work as Carly earned Brown three Daytime Emmys. She won back-to-back Outstanding Younger Actress trophies in 1997 and 1998, and in 2000 she took home the award for Outstanding Supporting Actress
In between General Hospital gigs, Brown found time to appear as another daytime bad girl during a six-month run as Julia Larrabee on CBS's As the World Turns.
On The Bold and the Beautiful, however, Brown will play a character very unlike her other daytime personas. Brown will play the role of Sandy Sommers, described as a "likable, goodhearted newcomer" who will mix things up with Bridget, Nick, and Whip, played by Brown's former General Hospital co-star, Rick Hearst. Brown has reportedly signed a two-year contract with B&B.
"Sarah's powerful screen presence and vast range as an actress has intrigued me for years," Bell added. "I look forward to challenging her with this new role that will be unlike anything she's done before."
Brown makes her last appearance on General Hospital on November 5. On November 6, the actress debuts on The Bold and the Beautiful.
Photo Credit: Brandon Gonzales/Soap Central