It's the final battle for Joseph Mascolo and Days of our Lives this week. Mascolo, who has played the nefarious Stefano DiMera off and on since 1982, will be leaving the program when his character is written out.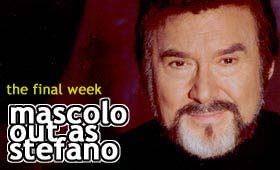 Soap Central readers have known for some time about the delicate situation surrounding Mascolo's contract talks. According to accounts from both Mascolo and NBC, show execs wanted to "rest" the character of Stefano DiMera.
"[A]s if Stefano ever rests," Mascolo quipped in a message on his official web site.
Mascolo insists that he went into contract talks and bargained "in good faith," but hinted that the network was "adamant" in their wishes and that there was no give-and-take in the negotiations. In a published interview, the actor admonishes the execs for not showing respect during the contract talks.
Mascolo's final on-screen appearance is June 14th.
According to executive producer Ken Corday, Stefano might be brought back later this year. The only catch is that Mascolo would have to keep his schedule clear and be available if and when the show decides to bring Stefano back to Salem. If Mascolo is involved in another project or otherwise unavailable, the show is not opposed to recasting the role.
As for Mascolo's future gigs, Mascolo has denied a report that he will be joining the cast of The Bold and the Beautiful. The actor, however, did admit that several competing programs have called to express interest in him.