It looks more and more likely that Joseph Mascolo (Stefano DiMera) will be leaving Days of our Lives when his contract expires next month.
Only a few weeks after reports that contract negotiations with show execs had broken off without resolve, Mascolo has been spotted at CBS's The Bold and the Beautiful where, according to rumors, he will play a love interest for Sally Spectra (played by Darlene Conley).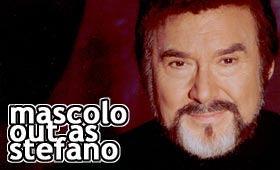 In March, two messages appeared on Mascolo's official web site that created a great deal of confusion about the actor's future with the show. The first note stated that contract talks between Mascolo and DAYS had broken off. Two days later, that message was removed and called a hoax. The second message went on to say that Mascolo and NBC were still in negotiations and that Mascolo never talks about his contract.
Buzz that the first message was correct all along and that executives from NBC had demanded that Mascolo remove the news that he was leaving the show has not been confirmed -- or denied -- by either side.
Officially, a DAYS spokesperson declined comment on the reports. Mascolo's departure, however, may not mean the end of Stefano DiMera. According to at least one report, the role could be recast within a few months if Mascolo does, in fact, leave the show. While Mascolo did originate the role of the evil Stefano DiMera, he's not the only performer to have played the role. For a period in 1991, Frank Fata appeared as Stefano.