According to a Days of our Lives spokesperson, Bryan R. Dattilo (Lucas Roberts) will be returning to the show in the New Year.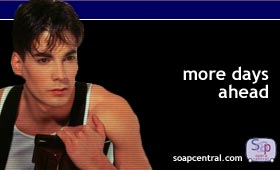 Dattilo exited DAYS in March of 2001 after an eight-year run with the show. According to Ken Corday, DAYS' executive producer, Dattilo wasn't fired. Corday insisted that Dattilo's exit was being used as a way to facilitate "a rest" for Dattilo's character.
At the time, there had been reports that Dattilo's character would return - perhaps as early as this past summer. However, that return never materialized in spite of a statement from Dattilo that he would be willing to return to the show.
When last seen, Dattilo's character had been critically injured in a fire and sent out of town for treatment. There's no word yet on how the character will be written back into the show.
Dattilo's "limited return" will come just in time for the February Sweeps period and his stay is expected to last a few weeks,