Her time in Salem has been riddled with some outrageous storylines, but it appears that Days of Our Live's new writing regime has run out of those kind of ideas for Greta Von Amberg.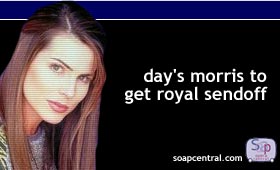 Julianne Morris (Greta Von Amberg) will exit Days of our Lives later this spring. According to a show insider, DAYS' new writing team felt that there was little story for Morris' character and subsequently decided that the character should be written out.

Morris joined DAYS in May 1998 as the infamous "Swamp Girl." It was later learned that Swamp Girl was actually a princess. A storyline featuring Greta and Austin (played by the also-leaving Austin Peck) in a virtual Garden of Eden was panned by critics and fans; the storyline was named Least Favorite Storyline in last year's Soap Opera Central awards. Greta's coronation, which featured a gaggle of "daytime royalty" and turned into a royal bloodbath, is another of the character's more memorable storylines.

Though a Days of our Lives spokesperson declined comment on Morris' release, Morris will make her exit on April 19th.