Days of our Lives star Bryan Dattilo (Lucas Roberts) was arrested early Saturday in Peoria, Illinois after one of his companions allegedly picked a fight with a waitress.

Dattilo was arrested for disorderly conduct while patronizing a prominent Central Illinois strip club.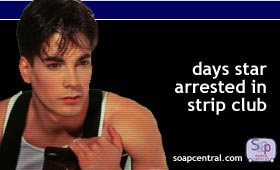 According to police, the incident, which took place at 2:10am at Big Al's, Chad G Beckett became angry when a waitress misspelled his name on a bar tab. Beckett was said to have lectured the waitress before throwing the tab at her.

When police arrived, Beckett allegedly said, "I'm a young businessman, let's talk about this," before he slammed a beer on the counter. He struggled as officers placed him in custody.

Beckett was charged with disorderly conduct, resisting arrest and criminal trespass. Dattilo, who was in town for promotional work, reportedly approached police during Beckett's struggle, but the soap star was restrained.