It's a case of good news and bad news for actor Bryan Dattilo (Lucas Roberts).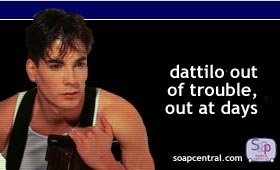 Charges of disorderly conduct against Dattilo have been dropped. The charges stemmed from a May 4th altercation in a Peoria, Illinois strip club between Dattilo, a friend and a club bouncer. Dattilo had been in Illinois on a series of personal appearances. He and Chad Beckett, a friend, stopped by Big Al's, a strip club that was next to their hotel. What Dattilo has called a case of being "in the wrong place at the wrong time," resulted in Dattilo being charged with disorderly conduct and his friend being charged with resisting arrest.
On the professional side, Dattilo's stint on Days of our Lives will end in July when his character exits the canvas for the summer. Dattilo rejoined the cast of DAYS earlier this year after having been dismissed in 2001. Dattilo's departure was not influenced by his legal troubles; the departure is storyline dictated. Dattilo's return was on a recurring basis, but show insiders hint that the actor will return later this year.