After what seems like years of negotiating, Lisa Rinna (ex-Billie Reed) will return to Days of our Lives.
As previously reported, DAYS execs had asked Rinna to reprise the role she played from 1992 to 1995. Originally, Rinna was unavailable to return due to pregnancy. Then Rinna signed on to co-host Soap Talk, a talk show in the Disney-owned all-soaps cable channel SoapNet. Soap Talk debuted earlier this month. [For complete details on the launch of Soap Talk, click here.]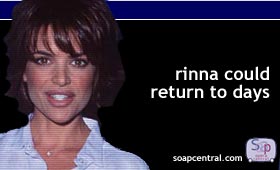 Rinna's work on Soap Talk was expected to prevent her from returning to DAYS full-time. However, Soap Talk, which will be produced in California, will tape its episodes over the weekend to accommodate the work schedule of Rinna's East Coast based co-host Ty Treadway (Troy MacIver, One Life to Live).
Rinna makes her first return appearance on DAYS on July 3.