SoapNet has now confirmed reports made last month about its plans to launch a new talk show. The all-soaps cable network will debut its second original series, a soap-and lifestyle-themed talk show called SoapTalk, on June 10th.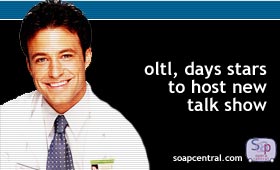 Soap veterans Ty Treadway (Troy MacIver/ex Colin MacIver, One Life to Live) and Lisa Rinna (ex-Billie Reed, Days of our Lives) will serve as co-hosts for the show
"A successful talk show starts with a fabulous host. When the idea for the talk show came up, we remembered how smart, funny and personable Lisa was when she co-hosted with Regis," said Deborah Blackwell, General Manager of SoapNet. "Ty, with his quick wit and sense of humor is her perfect complement. They have great chemistry together."
SoapTalk will feature interviews with both in-front-of-the-camera and behind-the-scenes soap personnel. In addition to interviews, the program will also feature soap related news.
To accommodate Treadway's schedule at One Life to Live, SoapTalk will be taped on weekends. Treadway will fly from New York to the West Coast to tape his parts on the show. The weekend schedule could also facilitate Lisa Rinna's much anticipated return to Days of our Lives.