Days of our Lives will be losing an entire family later this spring as three performers will soon be cut from the cast.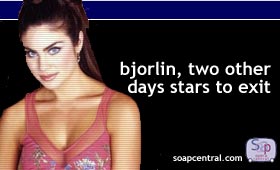 Setside sources have indicated that Nadia Bjorlin (Chloe Lane) has opted to not renew her contract with it expires in May. Bjorlin's last contract expired in December 2002, but the actress agreed to stick around for an additional six months to wrap up her storyline - or provide the show with the opportunity to find a suitable recast for the role. Now insiders have told Soap Opera Central that the role will not be recast.
Bjorlin joined the cast of Days of our Lives in December 1999 and quickly became a fan favorite.
Also out are Bjorlin's on-screen parents, Patrika Darbo (Nancy Wesley) and Kevin Spirtas (Craig Wesley).
Spirtas will be bumped to recurring status at the end of his contract, which expires in March. The actor made his on-screen debut in the summer of 1997. Spirtas will remain on the show after his downgrade.
Darbo joined the cast of DAYS in 1998 in what seen as a ground-breaking role. Darbo didn't fall into the typical soap opera stereotype. The plus-size actress, however, was quickly embraced by the viewing audience who were better able to identify with Darbo than other actresses. TV Guide named Darbo one of the sexiest soap stars on television in 1999.
Spirtas, Darbo and Bjorlin will also make their exits around the same time. That date has not yet been announced, but it is expected to be in early spring.
A network spokesperson had no comment.