What are your thoughts on James Reynolds exiting DAYS?

This is horrible. I'm outraged that they'd let him go.
62%
I'm disappointed, but Abe really isn't vital any more.
21%
It's a wise move. Abe isn't need and it dumps dead weight.
10%
I don't believe the rumors. Reynolds isn't going anywhere.
4%
I don't really think it affects me one way or the other.
3%
Other
1%
Poll Posted: July 21st. 2003
Soap Central has learned that long-time Days of our Lives star
James Reynolds
(
Abe Carver
) has been released from the show. The actor's exit, which will come later this summer, has yet to be confirmed by the show.
The move to take Reynolds off contract has stunned many of the actor's co-stars. There is talk that
recently returned head writer
, James E. Reilly, plans to greatly pare the show's roster - and that more firings could take place in the very near future. Casting shakeups are typical of new writing regimes, but this is also being seen as a way to cut the show's costs.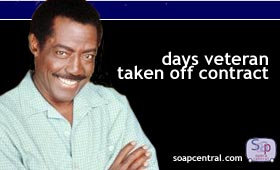 According to an article in Soap Opera Digest, Reynold's character is the longest running African American character in television history. Reynolds joined Days of our Lives in 1981. While Reynolds did vacate the role briefly from 1990 to 1991 to work on Generations, he's been a part of the DAYS canvas for nearly 22 years.
Reynolds makes his final DAYS appearance on September 29th.