Taylor's Roman Out In the New Year
by
Dan J Kroll

Posted Sunday, November 30, 2003 3:10:36 PM

Days of our Lives head writer James E Reilly has now confirmed how and when Josh Taylor (Roman Brady) will exit the show.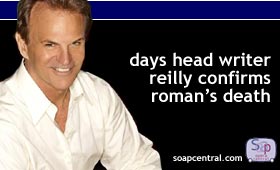 Soap Opera Central first reported on Taylor's exit in early November. The confirmation that the actor had been axed came after weeks of speculation from Internet users. Though widely assumed, Reilly has only now confirmed that Roman Brady will fall victim to the serial killer.

Taylor has the unique distinctive of having been in two different long-term roles on the same show. From 1976 to 1987, Taylor portrayed Chris Kositchek. In 1997, exactly one decade later, the actor returned to the fictional town of Salem to tackle the role of the real Roman Brady

Roman will be murdered on New Year's Eve, though the method used by the serial killer has not been revealed. This marks the second consecutive year that a DAYS character has met their maker on the holiday. Last year, Colin Murphy was killed.

A final airdate was not made available by NBC. It is possible -- as has been the case with other actors who have seen their characters killed -- that Taylor will continue to air for several episodes after his death.

RELATED STORY
Read a Soap Opera Central Special Report on DAYS' serial killer
---