In a surprising move, newly cast Charity Rahmer has been replaced as Days of our Lives' new Belle Black. The decision to yank the actress came before Rahmer had even made her first on-screen appearance.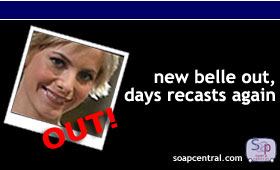 In May, fan favorite Kirsten Storms revealed that she would have to exit her Days of our Lives role for a role on the newly created primetime series The Clubhouse. Rumors of the actress' exit had been swirling for several months prior to the announcement, though Storms had originally hoped to pull double duty on both DAYS and the primetime series. Storms last aired on July 15. (Click for the complete story)
Rahmer was a newcomer to daytime television, however she had made several appearances in film. Rahmer made her film debut in 1997's Shadow Dancer. She then appeared in horror flicks The Frightening, Cheerleader Massacre, and Leeches!
Newcomer Martha Anne Madison will assume the role of Belle from Rahmer. Madison began taping scenes on July 20th -- just one day after Rahmer made her on-screen debut. Madison makes her on-screen debut on August 10.
In a statement from the network, a show spokesperson explained the decision to recast. "The producers felt that the full potential of the role was not being realized and decided it was better to make a change sooner rather than later."
Photo: NBC