Days of our Lives' head writer, James E Reilly, is continuing his mission to bring back some of the show's more popular characters from years past. For the second time in under two months, the show has announced the return of a long-lost character.
Beginning in late spring, Austin Peck (ex-Austin Reed) will reprise the role of Austin Reed, a role he played from 1995 through 2002.
"It's going to be very exciting," said DAYS executive producer Ken Corday in a statement. "Austin is wonderful. He and I have had a number of conversations. He is thrilled to be coming back."
Peck was last seen in 2002, when his on-screen alter ego dumped Sami Brady at the altar.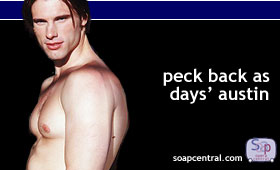 With Austin's return, some savvy Internet users are wondering if another popular DAYS veteran --Christie Clark - will also be returning. Clark played Carrie from 1986 through 1990 and then again from 1992 to 1999. Why are fans questioning a Carrie return? In recent interviews, Corday has hinted that a popular couple from the show's past would be returning. At one time, Clark and Peck's characters were married.
Corday didn't rule out the return, offering a simple "maybe" when asked about Carrie's possible return.
Prior to the announcement that Peck was returning to the fictional town of Salem, rumors circulated that he might soon be joining the cast of ABC's General Hospital. Several sources claimed to have seen Peck at the GH studio during audition sessions.
Peck will make his first return airdate in June.