Though unconfirmed by the network, Soap Central has learned that Nadia Bjorlin (Chloe Lane) will exit Days of our Lives when her contract expires this summer. The actress has been on recurring status with the show since August 2004.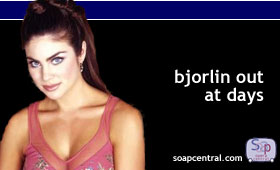 The administrator of Bjorlin's official web site was the first to make mention of the actress' impending exit, much to the dismay of network executives. The announcement would later be confirmed by the actress herself. In a message on her web site, Bjorlin told fans, "[The Powers that Be] have decided to wrap up the Chloe and Brady storyline...but I think it will be a great ending."

The exit alluded to by Bjorlin - which may also include the exit of a very popular co-star -- will coincide with the start of filming for the actress' new primetime gig, the UPN drama series "Sex, Lies & Secrets." The UPN series will debut this fall.

Bjorlin joined the cast of Days of our Lives in 1999 and remained a popular, contract player through June 2003. The actress then returned for a handful of episodes over the next year-and-a-half before returning on a regular, recurring basis in August of last year.

Bjorlin will tape her final DAYS episode in July and will have an on-screen exit sometime in early August. When asked for comment, an NBC spokesperson stated, "We do not comment on contract status."