Former All My Children star James Scott (ex-Ethan Cambias) will be joining the cast of NBC's Days of our Lives later this month. And while the actor was little-used in his latter days on All My Children, the former model is prepping for a heavy work load on his new show.
Born and raised in Newcastle Upon Tyne, in northeast England, Scott moved to Los Angeles after being bit by the acting bug during a modeling trip. After saving up his money, Scott moved to Los Angeles permanently and studied acting for two years. He was then cast on the New York-based ABC soap, All My Children.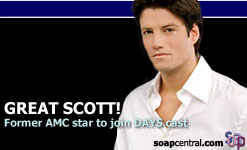 Scott's stint on All My Children was cut short earlier this year when his character was killed in an explosion at a Mardi Gras ball. After his character's death, Scott did make a handful of appearances as an apparition.
Little is being revealed about Scott's DAYS character; however, the actor hints that there are some similarities between his DAYS role and that of Ethan Cambias. One of those similarities -- albeit a stretch -- could be a first initial. According to a DAYS spokesperson, Scott will play the role of "E.J." It is presumed that by keeping the character's last name a secret, DAYS is also preserving the mysterious connections that Scott's character will have to other characters on-screen. [Update: The character now has a last name -- E.J. Wells]
Scott taped his first scenes for DAYS on May 3rd. Those scenes will hit the airwaves on May 30th.