Earlier this year Soap Central first reported that Hogan Sheffer would be taking over as head writer of NBC's Days of our Lives in August. At the time, the network had no official comment. Now, almost two months later, a DAYS spokesperson has confirmed that multiple Emmy-winner Sheffer has joined the show.
"Hogan's creative storytelling and expansive knowledge of the genre will continue to provide DAYS fans with all the great storylines they crave," said Annamarie Kostura, Vice President, Daytime Programming, NBC Entertainment.
Before joining Days of our Lives, Sheffer served previously as head writer for CBS's As the World Turns. Sheffer assumed the role of head writer with no previous soap experience, but his writing clicked with soap fans. His work also clicked with Emmy voters, who awarded Sheffer and the rest of the ATWT writing team with Outstanding Writing Team Daytime Emmys in 2001, 2002, 2004 and 2005. He also received nominations in 2003 and 2006.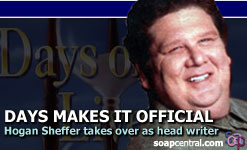 Sheffer replaces now-former DAYS head writer James E. Reilly who, according to show sources, was let go after the show's ratings took a dramatic slide earlier this year. Reilly will remain on as head writer of Passions, which also airs on NBC.
Unlike Reilly, who reportedly did not often venture into the DAYS studio, Sheffer will relocate from the East Coast to California and be a regular fixture around the lot.
"I am thrilled that Hogan Sheffer has moved to California to join forces with Days of Our Lives, Corday Productions and NBC in order to help us pursue our dream of returning Days of our Lives to the top," said Ken Corday, Executive Producer. "Hogan is an exceptionally warm and humorous person whose many life experiences mirror those of our characters and our viewers. He will bring a new romantic and emotional vibrancy to the show which the fans have been looking forward to for a long time."
Sheffer, however, is not without some controversy. During his stint at As the World Turns, some fans were critical of what they saw as Sheffer penning more material for his "favorites" among the show's many characters. Those fans felt that veteran performers were often cast aside while newcomers were featured prominently on-screen.
Beth Millstein has been acting as interim head writer during the Reilly-to-Sheffer transition. Millstein will remain on the show's writing team. Sheffer's material will begin airing later this year.