Two more Days of our Lives stars are on their way out. Brandon Beemer (Shawn Douglas Brady) and Martha Madison (Belle Black) were told late last week that they were being released from their contracts in early February.
Rumors swirled yesterday as the news of their dismissals spread. Officially, Beemer and Madison were informed that their exits were story-dictated by the writers. A source tells Soap Central, however, that their ousters were financially driven and made by the show's executive producer, Ken Corday.
Wow. I can't believe how fast word travels," Madison said in a statement on her official web site. "I have been bombarded with emails and [messages] asking if it's true [that] Brandon and I have been let go from the show. I'm sorry/sad to say that we have, in fact, been released from our contracts. It was explained to us on Friday that this was a storyline dictated move by the writers, and that, at this time, we were free to move on to other work. We have both been incredibly grateful for the time that we've had here, and we will still be taping for the next few weeks."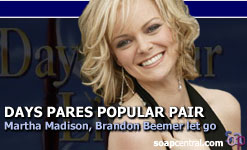 "Sad to say that it's true," Beemer echoed on his official web site. "The show's decision was very unexpected, but it's always something that comes with the territory. I'll write more when I get more info."
At this point, Beemer and Madison are still scheduled to appear with other current castmates at a show publicity event on March 15th in Hartford, Connecticut.
Madison has played the role of DAYS' Isabella "Belle" Black since 2004. She replaced Charity Rahmer, who served as a temporary replacement when actress Kirsten Storms (now Maxie Jones, General Hospiral) left the show.
A former model, Beemer was hired to play Shawn in September 2006.
"Yes, it is true," a DAYS spokesperson tells Soap Central "We are very sad to see them go."
Beemer and Madison will last air on March 21st, 2008.