It's yet another account of a shocking meltdown of one of daytime's writing teams. According to at least one published report, embattled Days of our Lives head writer Dena Higley abruptly quit and walked away from her job last week. Now, there is talk of lawsuits, new writers, and far more drama than anyone has seen on-screen in some time.
Dena Higley was officially named DAYS' head writer earlier this year. Higley returned to Days of our Lives' writing team after a three-year break from the show. During that time, Higley helmed ABC's One Life to Live. Earlier this year. Higley earned a Daytime Emmy for Outstanding Writing Team for her work on One Life to Live. It is widely believed that Higley was penning DAYS storylines during the 90-day writers' strike that spanned the latter part of 2007 and the early part of this year.
With a recent Emmy win under her belt and critical acclaim for developing a story about autism, it would seem that Higley's place at Days of our Lives would be secure. That apparently is not the case. TV Guide Canada's Nelson Branco reported in his column that Days of our Lives co-executive producer Ed Scott has been retooling nearly all of Higley's work in recent weeks. In fact, Scott reportedly went as far as to encourage some of the show's talent to rewrite their lines.
"He's been writing and re-writing story, dialogue and scenes for weeks and weeks," a source told Branco. "He's also encouraged actors, including one overblown diva, to rewrite not just her own lines, but also her scene partners'."
This is a serious situation with serious consequences. If these allegations prove true, Days of our Lives could be fined by the Writers Guild of America. The WGA is investigating the matter now, and has been given photographs that prove the allegations. The very fact that WGA is going to bat for Higley is somewhat ironic considering that Higley had been labeled a "scab" during the writers' strike.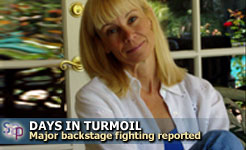 To add to the already complicated matter, there are not-so-veiled insinuations that Scott wants to run Higley out of the building so that he can reunite with writers that he worked with during his long reign as executive producer of The Young and the Restless. Among the candidates rumored under consideration for Higley's position are Jack Smith and Josh Griffith. Smith currently serves as a writer for The Bold and the Beautiful. Griffith was named head writer and executive producer of The Young and the Restless during the writers' strike. After the strike ended, he was made the show's official executive producer.
Executives with Sony Pictures Television, the distributor of Days of our Lives, are said to be working feverishly to keep Higley on as head writer and restore some sense of normalcy to an otherwise chaotic situation.
Meanwhile, Higley has returned to work, according to at least one setside source.