Though rumored for many weeks, Dena Higley has now officially been named the head writer of the NBC soap. Higley's reinstatement as head writer ends a three-year absence from the show. Higley joined the DAYS writing team in 1985 and over the following 18 years eventually worked her way up to the head writer position. In early 2003, Higley presented DAYS executive producer Ken Corday with a detailed, long-term story outline. Corday liked the pitch so much that he hired Higley as the show's head writer. Her stay at the top, however, was short-lived. Higley was demoted in May 2003, just three months after having been named head writer.
Higley remained with Days of our Lives through September 2004 when she agreed to take over the head writing duties at a rival soap, ABC's One Life to Live. Higley was not well-received by One Life to Live fans, many of whom accused the scribe of penning story for just a handful of her favorite characters. Moreover, much of her writing seemed to focus on event-driven story rather than actual storytelling. Despite having her critics, Higley and the rest of the One Life to Live writing team was honored with a Daytime Emmy nomination in 2006. Higley was relieved of her OLTL duties in June 2007.
Combined with her nominations from her tenure at Days of our Lives, Higley has received a total of six Daytime Emmy nominations.
With Higley's return to Days of our Lives comes confirmation of the firing of Emmy-winning head writer Hogan Sheffer. In February, Soap Central first reported on the ouster of DAYS' entire writing team.
"Yesterday I received a phone call I've received three other times in my life -- but one that never cut so deep as this," wrote DAYS writer Tom Casiello on his personal web page. "I learned I would not be returning to [Days of our Lives] when the strike ends. My time in Salem is done [and it] ended back on November 1st when I turned my last breakdown in, and I didn't know it."
Ousted along with Sheffer and Casiello are Frederick Johnson, Meg Kelly, Gordon Rayfield, Judy Tate, Judith Donato, Renee Godelia, and Richard Backus.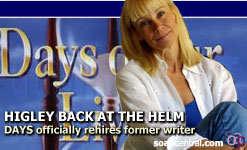 Joining Higley on DAYS' newly christened writing team is co-head writer Victor Gialanella and dialogue writers, Rick Draughon and John S. Newman. Both Draughon and Newman have previously served on the DAYS writing staff.
Four members of the show's pre-strike writing team will remain with the show as dialogue writers. They include Bettina Bradbury, Renee Godelia, Cydney Kelley and Jodie Scholz.
Days of our Lives will no longer use breakdown writers, writers who essentially craft the barebones outlines of each episode. Higley and Gialanella will now include those functions in with their duties. The goal is not only to cut costs, but also to have a more streamlined and cohesive story.
The changes to DAYS' writing team do not come without controversy. The Writers Guild of America, East, has filed for arbitration against Corday Productions, which produces Days of Our Lives. The Guild claims that Corday Productions violated the Guild's strike termination agreement by retaining writers hired during the writers' strike. The WGA also has a separate arbitration case filed against ABC.
In related post-strike fallout, the WGA has published a list of writers who opted to invoke the financial core ("fi-core") clause in their union membership. The list, which targets writers that the guild says "consciously and selfishly decided to place their own narrow interests over the greater good" of the union members, includes Higley and Sheffer.
Writers Guild has strong words for writers who opted for "fi-core" status.