The behind-the-scenes shake-ups at ABC Daytime continue. The latest casualty of under-performing soaps is Dena Higley, who has been ousted from her position as top scribe for One Life to Live. Effective immediately, co-head writer Ron Carlivati has been promoted to head writer.
Carlivati has been a member of the One Life to Live writing team for over a decade. He began his work at the ABC soap as a writers' assistant in 1996. He also served as a breakdown writer before being promoted to co-head writer in February 2007.
"Ron's commitment and contribution to One Life to Live's writing staff makes him an excellent choice to take on headwriting duties," said executive producer Frank Valentini in a statement. "He has a contemporary sensibility, a quick wit and, above all, a tremendous passion for the stories in Llanview."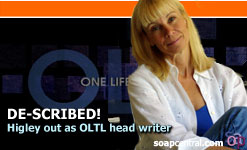 Throughout her nearly-three-year tenure with One Life to Live, Dena Higley has found herself at odds with fans of the show. The scribe, who promised "character-driven story" and "a fresh perspective" when she was promoted to head writer in September 2004, seemed unable to deliver on many of the plot ideas that she spoke of in various interviews. Several of her featured storylines also never panned out, though many of them were fueled by situations there were out of her control, such as contract negotiations.
In spite of the apparent dissent over Higley's storytelling, One Life to Live earned a Daytime Emmy nomination for Outstanding Drama Series this year. It is only the show's third nomination for top soap. The show was not, however, nominated for Outstanding Writing Team.
Higley joined One Life to Live in September 2004 after a lengthy stay at NBC's Days of our Lives. Higley served briefly as head writer for DAYS after presenting the show's executive producer with a comprehensive plot outline featuring her vision for the show.