Edward J. Scott has been relieved of his duties as co-executive producer of Days of our Lives. His dismissal, which a setside source tells Soap Central came as "a complete blindside," is the culmination of several weeks of behind-the-scenes turmoil. The dissent among the show's execs had more drama than what DAYS fans were seeing on-screen-and that may have been part of the problem.
Last month, Soap Central first reported on the friction between Scott and Days of our Lives' head writer, Dena Higley. According to an insider, Scott had been rewriting much, if not all, of Higley's work. The insider went on to say that Scott was actually encouraging some of the show's talent to rewrite their own dialogue. While it may not seem like a big deal for a television show's head honcho to tweak story, the Writers Guild of America thinks it's a very big deal. The WGA, whose members walked the picket lines earlier this year, has an agreement with the producers' union that bars a show from fudging a union member's work.
The WGA has been investigating Higley's claims, claims that are said to come with indisputable proof of Scott's tinkering. There is irony in the WGA's involvement in the situation. Higley was blacklisted as a "scab" earlier this year by the Guild for having worked during the WGA's work stoppage.
DAYS executive producer, Ken Corday, is said to be a strong backer of Higley, but the decision to oust Scott is not seen as a move to make nice with Higley. Corday had no other choice but to fire Scott. If any wrongdoing is found during the WGA investigation, DAYS could face some serious fines-not the kind of thing a financially strapped show needs. It is unclear if Corday's decision to oust Scott could appease the Guild and convince it to forgo the heavy fines.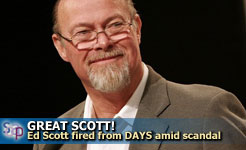 Meanwhile, with Scott out, Days of our Lives is set to announce a replacement co-executive producer. Gary Tomlin, the Emmy-winning former executive producer of ABC's One Life to Live, will fill Scott's old slot with the show.
"I have decided that it's in the best interest of the show's future to make this change in order to improve DAYS both visually and emotionally," said Ken Corday, Executive Producer. "We at DAYS are grateful to Ed Scott for all of his contributions and amazing energy over the past year. Gary Tomlin brings a long successful history of being an actor's producer and a writer's producer to our cast and crew and I know the viewers will see the immediate results of this change for the better."
Tomlin has an extensive history with daytime television. His first foray into the soap world was as an actor; he appeared as Bruce Carson on Search for Tomorrow. He then transitioned to the behind-the-scenes world. He has worked as a director on Passions, a director at One Life to Live from 1992 to 1995, the executive producer of One Life to Live from 2001 to 2003, and he has held the role of head writer for Sunset Beach and Another World. This is not the first time that Tomlin will be associated with Days of our Lives. From 1980 to 1981, Tomlin helped steer life in Salem as the show's co-head writer. Most recently, Tomlin worked as head writer of One Life to Live during the writers' strike.
Writers Guild has strong words for writers who opted for "fi-core" status.