It may be hard to envision Days of our Lives without supercouple John and Marlena, but in the coming weeks, fans of the NBC soap are going to get a glimpse of what the show will be like without the popular pairing. Both Deidre Hall (Marlena Evans) and Drake Hogestyn (John Black) have been let go.
"The couple will be happily reunited after a long period of angst and separation and will be off-screen after January for an unknown period of time," Days of our Lives executive producer Ken Corday told Soap Opera Digest.
The move to cut two of the show's biggest stars comes as NBC reached a deal with Sony Pictures TV to continue airing Days of our Lives through September 2010. The show's renewal comes with a drastically reduced licensing fee, which means there is less money to go around. According to one show insider, it appears that DAYS execs are opting to cut the show's highest-paid stars to free up money.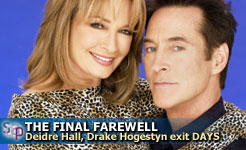 This is not the first time that Hogestyn has effectively been fired. In October 2007, Hogestyn was cut from DAYS for a period of time, something that the actor hinted he knew was coming. In January, as Hogestyn prepares to again bid farewell to Salem, the actor will mark his 22nd anniversary with Days of our Lives.
Hall, on the other hand, has come and gone from Days of our Lives in the past -- but those previous exits have been her own choice. Hall debuted on DAYS in 1976. She took a four-year leave from the show in 1987 to pursue some primetime work. Since her return in 1991, Hall has been front and center as the show's marquee female actress.
The firing of Hall and Hogestyn was not a decision made lightly.
"It was a very tough decision to make," Corday notes.
Rumors hint that there may be many more tough decisions ahead. At least five other big name stars are rumored to be on their way out. Another star - Jay Kenneth Johnson (Philip Kiriakis) bolted from the show last week as contract talks fell apart.
If there is any comfort to be found in the exits of Hall and Hogestyn, it may be that neither of the performers' on-screen alter egos is being killed off. Both stars could potentially return to the show at a later date. In the meantime, Hall and Hogestyn last air on January 24, 2009.