In what could be a harbinger of bad news to come, Soap Central has learned that Jay Kenneth Johnson (Philip Kiriakis) reportedly cleaned out his dressing room and bolted from Days of our Lives. The move was an apparent display of unhappiness by the actor with the way that his contract negotiations had been going with the network. dressing room and walked away from the NBC soap.
There was just one problem -- Johnson was still under contract to Days of our Lives and contractually obligated to return to work.
According to Soap Opera Digest, the main obstacle in getting Johnson to re-sign is money. In the wake of NBC's renewal of Days of our Lives, the entire cast is being asked to take significant cuts in salary. The paycuts are designed to slash the show's operating budget and keep the 41-year-old soap afloat.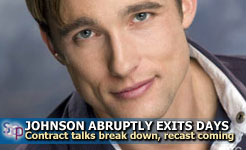 In 2007, Johnson made a much-heralded return to Days of our Lives. The actor had exited the show four years earlier to pursue career opportunities outside of daytime television. The actor had reportedly been forced to pass on a movie because Days of our Lives execs would not give him time away from the show to work on the other project.
While he did not land any feature film roles during his time away from Days of our Lives, Johnson did find work in primetime. Most notable among those roles was a recurring spot as Dr. Matthews on NBC's medical sitcom, Scrubs.
An insider tells Soap Central that the show is actively working to recast the role of Philip in the event that Johnson does not re-up. When Johnson exited the show previously, it took the show nearly five months to bring a recast to the screen. That actor, Kyle Brandt, appeared on DAYS from 2003 to 2006. It's unclear if Brandt has been asked to reprise the role.
Officially, a Days of our Lives spokesperson had no comment.