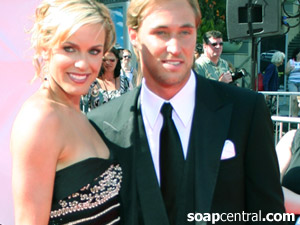 Congratulations goes out to Arianne Zucker (Nicole Walker, Days of Our Lives) and Kyle Lowder (Rick Forrester, The Bold and Beautiful).
The real-life couple and former co-stars are expecting their first child, a little girl, in December.
"It's a... girl! No, Ari didn't give birth yet, just found out the gender," Lowder tweeted on his Twitter page. "Daddy's feeling a little light headed :)"
Don't expect to see Zucker's pregnancy written into any future DAYS storyline. Soap Opera Digest reports that the show will not incorporate Zuker's pregnancy into the fictional Nicole's storyline.
Zucker and Lowder married in August 2002. This will be the first child for both actors.
Photo: Dan J Kroll/Soap Central