Days of our Lives star Alison Sweeney (Sami Brady) and Hallmark recently hosted the Celebri-Tree Holiday Open House to support Feeding America, the nation's leading domestic hunger-relief charity. The event, held at Sweeney's home in Hollywood, allowed celebrity guests and their families the chance to personalize popular Hallmark products, including Hallmark Keepsake Ornaments, recordable cards, DVD greetings, and Hallmark's new recordable storybook "The Night Before Christmas." A selection of those personalized items are now up for auction and available for purchase -- just in time for Christmas -- online at www.clothesoffourback.org. All proceeds will go directly to Feeding America.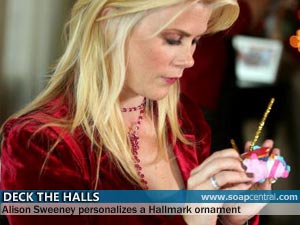 "As a member of the Entertainment Council of Feeding America, I'm passionate about finding unique ways to help raise awareness and support for their cause. The opportunity to host this event with Hallmark couldn't have been more perfect," Sweeney said in a statement. "Anyone can join America's fight against hunger by bidding on their favorite celebrity's personalized holiday items from Hallmark."
Celebrity guests at the Celebri-Tree Holiday Open House included Galen Gering (Rafe Hernandez), Lisa Rinna (ex-Billie Reed), Greg Vaughan (ex-Lucky Spencer, General Hospital), MacKenzie Westmore (ex-Sheridan Crane, Passions) and her country singer husband Seven Williams, Denise Richards, Dancing With The Stars host Samantha Harris, Access Hollywood's Nancy O'Dell, Jerry Penacoli of Extra, and The Biggest Loser's season five winner Ali Vincent.
Although they couldn't attend the event in person, other stars personalized items for the auction as well, including Cameron Mathison (Ryan Lavery, All My Children) and Austin Peck (ex-Austin Reed; ex-Brad Snyder, As the World Turns), Clothes Off Our Back founder Jane Kaczmarek, and award-winning actress Marlee Matlin. In addition, Sweeney took several of the Recordable Storybooks to the set of Days of Our Lives for the entire cast to sign.
"My favorite Hallmark product is the new Recordable Storybook, which allows a parent or grandparent to read to a child even when they can't be there in person. So now, when I'm traveling for work, I can still read my children, Ben and Megan, a bedtime story. It's something I know they'll enjoy for years to come," Sweeney said.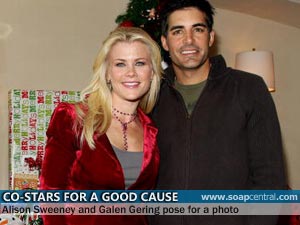 Other Hallmark products in the auction include Hallmark Keepsake Ornaments, Recordable Cards, DVD Greetings and Digital Scrapbooks -- all personalized by celebrities. Starting bids for the auction items range from $10 for celebrity-personalized Recordable Cards to $50 for celebrity-personalized Recordable Storybooks. Items will be awarded to the highest bidder at the end of the auction at 7 p.m. CST, Dec. 15, 2009. Visit www.clothesoffourback.org for more information.
"Hallmark wants to help fill the holidays with meaning by providing unique and personal ways to connect with loved ones," said Deidre Mize, National Campaign Manager at Hallmark. "Through Hallmark's Celebri-Tree Holiday Auction, not only will we help connect fans with their favorite celebrities through personalized holiday products, but we'll also be generating much-needed awareness and support for the critical need of hunger relief in America, especially this time of the year."
"We are so grateful to Alison Sweeney and Hallmark for their commitment and dedication to helping the 49 million Americans at risk of hunger this holiday season," said Paula Greear, Feeding America Spokesperson.
Photo: Hallmark