Two years ago, Jay Kenneth Johnson (Philip Kiriakis) reportedly cleaned out his dressing room and was ready to call it quits from Days of our Lives. Now, Soap Central has learned that the actor has signed his name to a new, multi-year contract.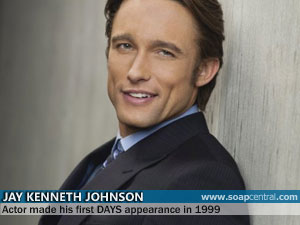 Though the terms were not released, Johnson has signed a four-year deal to keep his alter ego in Salem.
Johnson first joined the cast of Days of our Lives in 1999. He remained with the show through 2002, before exiting to pursue opportunities outside of daytime. The actor had reportedly been forced to pass on a movie deal because of his DAYS contract. In 2007, Johnson made a much-heralded return to the show.
In 2008, Johnson, reportedly unhappy with being asked to take a pay cut, cleared out his dressing room and bolted from the studio. Though the actor was said to have had no desire to return to Days of our Lives, Johnson was still under contract to the show. He eventually returned to the show, amid talk that Days of our Lives had considered recasting Philip.
NBC does not comment on contracts.
Photo: Mitchell Haaseth/NBC