Peter Reckell (Bo Brady) will exit Days of our Lives -- but he will be back. The Emmy-nominated performer is being shelved for a while because he's been on-screen too much.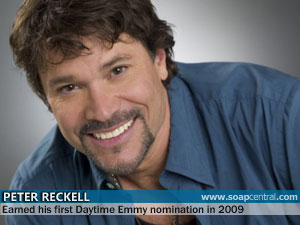 A show insider tells Soap Central that Reckell is "almost over his guarantee," the number of episodes that a performer's contract promises that they'll appear in and be paid for. If an actor appears in more episodes than their contract states, the show is required to pay that performer more money. In daytime's current state of belt-tightening, most shows are unable to pay out any extra cash.
To accommodate Reckell's down time, the show will have Bo travel out of town to visit family.
Though perhaps one of Days of our Lives' most recognizable performers, it wasn't until last year that Reckell earned his very first Daytime Emmy nomination. Reckell debuted on Days of our Lives in 1983. He exited the show four years later, but returned in 1990. In 1992, Reckell took another three-year break from the show. He's currently been with the show since 1995.
Reckell's "last" airdate has not yet been announced by NBC. The actor is expected to be off-screen for about a month.
Photo: Mitchell Haaseth/NBC
---