Days of our Lives' Chad DiMera isn't exactly a Casanova. Sure, he may be dashingly handsome, but as of late, he's been more likely to stab a girl in the back than take a stab at romance. However, his portrayer, Billy Flynn, tells Soap Central that a broken heart may be the key to opening the young DiMera's softer side. And when that happens, he'll be just like a box of Valentine's Day chocolates: you never know what you're going to get.
As we previewed in DAYS' February Sweeps teasers, the month gets off to a rocky start for Stefano's son. After witnessing his gal, Jordan (Chrishell Stause), smooching Rafe (Galen Gering), the guy pretty much loses it. Though not in the way many viewers may have expected. "When Chad saw them kissing... you could see he was genuinely sad," the Minnesota native explains. "He wasn't angry in the moment, and little things like that keep you guessing. Everybody was like, 'I thought he was using her!' Well he was, but it doesn't mean he can't be sad. It would be predictable if he was just [a jerk] about it. Everyone would say, 'Yeah, that makes sense, because Chad's [a jerk].' But now it's like, 'Wait a second. He's actually hurt.'"
And there's more where that came from following Stause and Jordan's imminent departure. "He's sad to see her leave, and he's sad to see another relationship bite the dust," the actor previews of the couple's breakup. "Everything he told her he didn't want to become, he became again, because -- well, I don't know, guys are stupid! So yeah, he's sad to see her go, but he doesn't really put up a fight with it because he wants her to be happy, and I think we're getting to a point now where Chad is starting to [revert back to the Chad he used to be]. He came back to Salem very vindictive and with a large vendetta, and he's starting to shed that away and see things a little bit more clearly now, more of what he wants in life. You're going to see a lot of things come up about his family that are reminiscent of Chad before he got shot and before he went to Boston."
Family is the key word, especially because Chad's includes Stefano, played by the very beloved DAYS veteran Joe Mascolo. "I love that guy," Flynn enthuses of his on-screen father. "My first face-to-face with him was a scene that's going to be coming up. Everything else was over the phone. And [when Mascolo brings Stefano back to Salem], you'll see a very large dynamic shift in how things are done."
With Daddy DiMera back in the fold, Chad realizes he's been acting a little too big for his britches. At least, that's one possible reason he drops the chip on his shoulder. The other is that the character is still getting to know himself in the midst of his father's return. "Chad becomes a lot more vulnerable, and I don't mean that in a sense of pouty; he sheds that fairly quickly," Flynn previews of the emotional changes his alter ego experiences in the weeks ahead. "But I'll read tweets, and people will be so confused as to what Chad wants and why he's such a [jerk], that he's playing dress up and stuff like that. And he has been. And I think the confusion is right, because Chad doesn't know what he wants. I think he had this picture that he drew up of things that he wanted, and it was sort of outrageous, and he went for things in a very brash way."
Flynn continues, "It's been a fun journey, but now you're going to kind of see more of the heart of Chad, the root of him. He starts to have a lot more conflict with his family, with his father. And it was just fun to drop the kind of smarmy, flamboyant arrogance that Chad had and just kind of, well, he'll still have it, but he becomes filled with a lot more heart. He's still going to make mistakes, but you'll see him fight with them a lot more. He sort of drops the persona."
Having a softer side, however, does not mean that he's completely shedding his DiMera bad-boy appeal. In fact, he may use it to win back Abigail (Kate Mansi), which Flynn says will definitely happen -- though not in a predictable way. "It doesn't happen very obviously; it's a very long road," he teases of the former couple's future together. "It's like when you watch a show like Bones, where it's seven seasons before [two characters] kiss. Everybody likes the anticipation and the speculation of if they're going to get together, and they get close, and then they get torn apart, and then you're like, 'Ah, [crap]. They were so close!' But people get bored of it once it happens, so I think it's interesting how it's played with Abigail. At times, you'll see them start to get close, and then it's just going to get ripped away."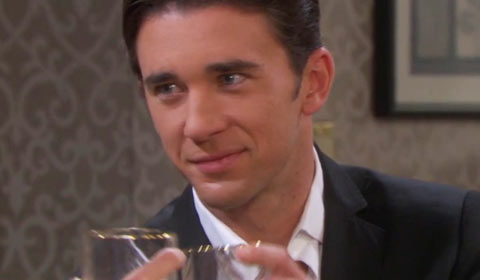 In the spirit of Valentine's Day, one could suggest that the club owner/CEO show Abigail a little romance to keep her in his clutches. But if he were to do so, what does Flynn think could win her over? "I think the most romantic thing Chad could do would to just be completely honest," he surmises. "He hides behind so much, and has such a fear of love and being hurt, so even if he does love somebody, he'll never tell them he loves them. He'll be like, 'Ah, I don't really give a shit.' You know? He's like, 'Oh, I don't care. It was just fun. It doesn't matter. You didn't hurt me.' And I think it would be really romantic for him to say, for example, 'You know what? You really hurt me and I feel bad.'"
Funny enough, the most romantic thing the actor has ever done for his real-life girlfriend, Gina Comparetto, is along the same lines. "I'm very expressive of my feelings. And I'm very honest and manly about it, which I think she really likes and thinks is kind of romantic," he admits with a grin, adding that he's gone the extra mile in other ways, as well. "I love to cook for her, and she finds it romantic that I like to do the dishes and clean up. I think she finds that interesting."
And if that's not enough to melt hearts, he admits that he likes to surprise his gal with trips, as well. "I took her to New York, which was an amazing experience. And I took her to Hawaii. But before we were together, when we were just dating, we took this very spontaneous road trip," he shares. "We had no idea where we were going, and we stayed for a while up in San Luis Obispo, in wine country, and I took her to this funny little themed hotel. We stayed in this room called the Love Nest that was all pink. We had an amazing dinner and we danced, and that was really special. I think she really liked that."
It sounds like he's almost too good of a beau to be true, but Flynn admits that he wasn't always such a romance natural. "I went through a couple of years as a struggling actor, and it's tough to put yourself out there if you don't feel real confident, so it was a big step for me to make a move and say, 'I want you,'" he explains of his and Gina's initial connection. "But she made it very simple: I had to have her. She satisfied me, and I didn't want anything else. So I just told her that and kind of put it out there."
Fortunately, it was a risk that paid off, and he says they've now been together for several months. "I've known her for two and half years, but it took me two years to build up courage to ask her out!"
It's hard to imagine that the guy who plays the smarmy, arrogant character of Chad DiMera was once too nervous to ask a girl out on a date. But then again, it's also tough to imagine Chad developing a heart of gold -- even though it's definitely possible. "If you look back on history, bankers are responsible for the collapse of our economy... and all these people thought they're just terrible human beings -- but they're not," Flynn says as an example of Chad's character. "When they're behind closed doors, it has to take a toll on their souls. No one can do these things or say these things to people and not have it affect them in any way. So I think now Chad is starting to feel that toll and he's seeing what he's done to people."
Flynn gives some insight into Chad, "Nobody likes to have everybody hate them, and in town, he's kind of become this pariah. And that doesn't feel good. Nobody wants that, and I think he starts to question it. He thinks, 'Well obviously, I'm doing something wrong. I thought what I wanted was to be this strong DiMera.' EJ's gone, so he felt like he needed to fill his shoes, but it's all been kind of play. And you're going to start to see him sort of mature a bit and, well, not grow up, because he still has a lot of growing up to do, but you're going to see him start to settle."
What do you think about Chad showing a softer side? Are you happy that some of the "old" Chad will be returning? Or do you prefer the DiMera exec to be all bad, all the time? Share your thoughts in our Comments section below, on our message boards, or by click here to submit feedback.