Madison James
Deceased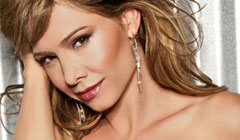 Died in Salem on August 13, 2012
Fatally injured during an explosion in Salem
Maddy MacIntyre (used when she was a child)
Co-CEO of Mad World Cosmetics
Former owner/CEO of Mad World Cosmetics
A hotel in Salem
Formerly in Colorado
Engaged to Brady Black (Engaged: April 19, 2012)
Ian McAllister (Married off-screen before she came to Salem; divorced summer 2012)
Becky (sister)
While not mentioned by name, Madison said that she had two additional siblings, divorced parents, and a deceased mother.
None (assumed)
Brady Black (dated/lovers/engaged)
Committed adultry with Brady while married to Ian (October 2011-February 2012)
Corporate Espionage- planted Sami inside Countess W to sabatoge their ad campaigns and feed information back to Mad World (January 2012)
Madison James appeared in Salem for a business meeting with Brady Black and Victor Kiriakis. She was the CEO of a successful cosmetics firm and Titan was interested in acquiring her business. After an awkward encounter with Brady to start the meeting, the three got down to business and stuck a deal for Titan to purchase Mad World Cosmetics.
Madison was not afraid to go head-to-head with Kate DiMera, her competition in the cosmetics world. Not only did she have Brady and Victor in her corner, but she also hired her childhood friend, Sami, as her junior executive.
Brady and Madison began flirting almost immediately. Despite her stance that she doesn't date men that she works with, they continued their flirtation, which eventually turned into a relationship. Madison was by his side during John's trial and when John was acquitted, Madison supported Brady's decision to leave Titan and go work for Basic Black with John.
Madison focused her efforts on taking down her professional competition, Kate DiMera's Countess Wilamena. Sami and Madison devised a plan to stage arguments in front of Kate, to make Kate think that Kate could hire Sami away from Mad World. Kate took the bait and Sami immediately began pitching Kate ideas that would be far inferior to Mad World's campaigns and product line. But, when Brady warned Madison that Sami was in great danger with Kate, Madison told Sami to abort the plan. Sami was worried that Madison was going to leave Sami holding the bag for the crime committed. So, Sami quit Mad World.
Madison's relationship with Brady continued to grow. She supported him when he left Titan and went to work for Basic Black. Brady fell so hard and fast for Madison that he proposed to her in February 2012. However, on the night of his proposal, he found another man in her hotel room. The man introduced himself as, Ian, Madison's husband.
Brady was shocked to learn that Madison was married and broke up with her on the spot. Madison tried to explain the details of her marriage to Ian. She met him when she was very young. He invested in her company, and his investment made Mad World a success. She married Ian when she was young, but soon learned that he had numerous affairs and she'd long since fallen out of love with him. However, Ian refused to grant Madison a divorce.
Brady resisted Madison at first. But, once he forgave her for lying to him, he agreed to help her fight Ian. However, it wouldn't be necessary. Once Ian reunited with former love, Kate, he agreed to divorce Madison. Madison ran to Brady and the two got engaged immediately.
Ian also had plans for Mad World. Ian had accepted the job of CEO of Titan, so technically, he had controlling interest in Mad World. Ian decided that Kate and Madison would become co-CEOs of the company. Madison was not happy. But, the two found common bonds over their hatred of Sami and desire to be successful
With her professional life in order, Madison's personal life started to fall appart. Brady was acting strange -- sweating, manic moods, and hyper behavior. Madison worried that Brady was using drugs again. Despite insisting that he hadn't touched drugs, Brady tested positive. Madison was furious. Brady insisted that Ian must have been slipping him drugs. Madison did not believe Brady. But, she soon changed her mind and accompanied him to rehab.
When they returned, they annoucned that they were going to marry right away. They set their wedding date for midnight, the night of Lexie's memorial ausism fundraiser. However, there was a great explosion that night int he tunnels underneath Salem. Many buildings were damaged, including the banquet hall where Lexie's benefit was being held. Madison was fatally injured in the explosion. Ian was with Madison and held her in his arms while she died. He confessed his love for her and tried to apologize for hurting her. With her last breath, Madison lifted her head and said, "I love you, Brady."
Brady never made it to the benefit because he was trapped in the tunnels underneath Salem. (He went there to help search for his missing friend, Melanie.) When Brady found out about Madison's death, he was devastated.

Post a Comment

Share on Facebook

Tweet this

Submit Feedback