Though unconfirmed by the show, Soap Central has learned that Matthew Ashford (Jack Deveraux) has been fired from Days of our Lives.
Ashford returned to the fictional town of Salem in February 2001 following an eight year absence. While Ashford is probably the best known actor to lend himself to the role of Jack, he isn't the only actor to play the part. During Ashford's time away from Days of our Lives, the role of Jack was played by two other performers. From 1994 to 1997, Mark Valley held down the part and in 1997 and 1998 Steve Wilder tackled Jack.
From insider buzz, however, it looks unlike that the role of Jack will be recast - and Jack could be off the show's canvas permanently.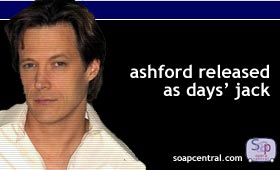 Ashford's firing appears to be a result of James E. Reilly's return as head writer. Traditionally, new head writers scrap characters from a previous writer's reign that do not fit into their vision for the show. Reilly has been quoted as saying that he wanted to pare down the number of contract roles on the show. In reducing the number of faces, the show can focus more story on fewer characters - and save a heap of money on salaries.
Ironically, Ashford's previous departure from the show was also linked to Reilly. Reilly joined DAYS as head writer in 1993 - and Ashford's Jack was one of the first cuts made.
To accomplish cast cuts, Reilly has created a storyline involving a serial killer. Show sources tell Soap Opera Central that the storyline will see several high profile characters fall victim to the serial killer.
"The victims will not be low profile, day players," confides one insider. "Nobody feels safe."
Indeed it would seem that few of the show's players are safe. The well-loved James Reynolds (Abe Carver) has also been let go. (See related article: James Reynolds Taken Off Contract).
Ashford's contract was not due to expire until March 2004, however, he will make his final on-screen appearance well before then.
Ashford, like Reynolds, is keeping quiet about his exit. A spokesperson for the show also had no comment.