Another month, another change in status for Days of our Lives starlet Kirsten Storms (Belle Black).
Two months ago, it was revealed that Storms would exit her role as Belle Black on Days of our Lives to appear in a primetime series. At the time, the series, a CBS drama entitled "The Clubhouse," had not yet been confirmed to appear on the network's fall lineup. To avoid being left in a lurch, Storms reportedly extended her stay with DAYS through the fall. However, when CBS unveiled its schedule in late-May, Storms' series had found its way to a Tuesday night airing.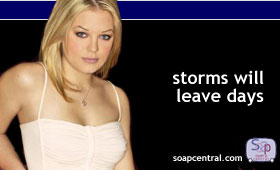 "Kirsten's pilot has been picked up and we are thrilled for her!" said a DAYS spokesperson in a statement. "The cast and crew of DAYS have always known that she was an exceptional talent and it would be hard for us to stand in the way of her future. We all wish her the very best."
The Clubhouse was created by primetime drama mogul Aaron Spelling. The story revolves around a batboy for a fictional New York baseball team called the Empire. The show was originally set to use the real-life Yankees, however, the licensing issues prevented that from coming to fruition. The series is scheduled to air Tuesdays at 9:00pm.
Meanwhile, back on Days of our Lives, the show plans to recast the role of Belle so that, according to a DAYS spokeperson, "the storyline will continue seamlessly."
Storms joined the cast of Days of our Lives in 1999.
There is no final airdate for Storms, nor has the name of her replacement been made available.
Photo: NBC