Things in November 2004 are much different than things in November 2003. Unlike a year ago when Days of our Lives fans were worried whether their favorite star would fall victim to the Salem Stalker, there seems to be more news this year about which performers are staying with the show.
Lauren Koslow (Kate Roberts), who joined Days of our Lives in 1996, will remain with the how for the foreseeable future. Prior to joining DAYS, Koslow appeared on CBS's The Young and the Restless and The Bold and the Beautiful.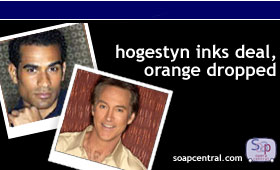 Meanwhile, 18-year DAYS veteran Drake Hogestyn (John Black) has also reupped with the show.
"Both of these actors bring an enthusiasm and professionalism to Days of our Lives in their individual ways. On and off the screen, they are exemplary representatives," said a show spokesperson in a statement.
"We are excited that both Lauren and Drake will continue as core members of the DAYS family," the spokesperson continued. "And we know the fans will share in our enthusiasm."
The terms of Koslow and Hogestyn's contracts were not released.
However, on the flipside is bad news for two Days of our Lives actors.
Rhasaan Orange (Tek Kramer) has been taken off contract. The actor joined the cast in July 2003. And Thaao Penghlis (Tony DiMera) is leaving DAYS -- at least temporarily. DAYS executive producer Ken Corday admitted in recent interviews that Tony is exiting the show's canvas, but refused to say that viewers had seen the last of Tony.

RELATED STORYDAYS casts new Abigail; Darbo, Bjorlin to return

Photo: NBC