In a surprising turn of events, Soap Central has learned that Matthew Ashford (Jack Deveraux) will be leaving Days of our Lives next month.
In mid-June, Soap Central first reported that Ashford had signed a new contract with the NBC soap. Though the terms of the deal were not revealed, it was widely believed that the contract would extend Ashford's stay in Salem for at least another year. The contract news coincided with news that Ashford's on-screen love interest, Melissa Reeves (Jennifer Deveraux), planned to exit the show in August.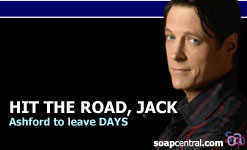 While Ashford had earlier stated that he would remain on Days of our Lives after Reeves' exit, the actor has now been reported as saying that his exit from the show is tied to Reeves' exit.
The decision to scrap Ashford's new contract may have been made easier by the show's current budget slashing. Last month, NBC announced that Days of our Lives had been renewed. The renewal, however, came with the mandate that the show severely cut its operating budget.
Ashford first joined that cast of Days of our Lives in 1987 and remained with the show through 1993. He returned for a two-year period beginning in February 2001 and ending in October 2003. His most recent engagement began in 2004.
Final airdates for Reeves and Ashford have not yet been announced by NBC. The show has left open the possibility that both actors could return or that both Jack and Jennifer could be recast at a later date.

RELATED STORYMelissa Reeves leaving Salem, headed to Nashville.